Agriculture
GREEN ETFECT® is a fluoropolymer film in ETFE, a material known for its durability, transparency and light transmission, used in contexts that expressly require these properties to high light transmittance film.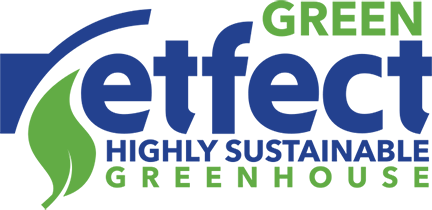 They are used with increasing success in agriculture as an advanced cover for greenhouses.

Compared to traditional roofing materials (polyethylene, polycarbonate and even glass), it ensures, among other things, long lasting, higher light transmission, ensuring earlier harvests and more colorful fruits.
GREEN ETFECT® is available in high transparent or diffused version, with or without anti-drip treatment.
Main advantages of GREEN ETFECT®
DURATION: GREEN ETFECT® films have a very long duration exposed to direct solar radiation, without the need for UV stabilization.
TRANSMITTANCE IN PAR (Photosynthetic activity radiation): they have a very high transmittance in the band of light useful for the photosynthetic activity of plants and maintain this characteristic over the years.
UV OPEN: they are natively open in the range from 280 to 340 nm to favor the coloring of fruits and plants and the activity of pollinating insects. (bumble bees)
GREEN ETFECT® AG: in this version with anti-drip treatment, harmful dripping on plants is avoided.
GREEN ETFECT® diffused: allows the diffusion of light with a high haze value.
IR: GREEN ETFECT® are films with a very high greenhouse effect, which retain night heat, accumulated during the day
FR: they are safe films that do not spread flames.
SELF-CLEANING: the low surface tension allows the film to remain clean.
CHEMICALLY INERT: they resist almost all chemical agents, therefore they are not attacked by any treatments on the plants inside the greenhouse.
MULTI LAYER: in this configuration they greatly contribute to the heat retention inside the greenhouse, achieving greater energy efficiency.
HIGH MECHANICAL PROPERTIES: natively, the ETFE films ensure high protection against the initiation of breakage and resistance to elongation.